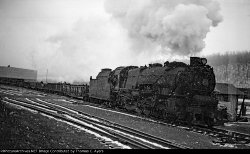 Welcome to the RRPictureArchives.NET contributor site of Thomas C. Ayers.



"So," you might ask, "how's come all these photos and articles about the Pennsylvania Railroad?"




When I was really young, my Mother would take my little Brother and me for walks along the Pennsylvania Railroad's tracks in Hollidaysburg, Pennsylvania, where we'd be serenaded by steam locomotives switching cars back and forth. Kinda figures we'd end-up there, since her own Father was a PRR locomotive fireman and engineman for 50 years.




When I was a little older, I found that I was obsessed with trains. First, there was the Lionel Lines Layout in the basement. Then there was watching trains. Then there was photographing trains. And all-along there was the melancholy sense that something really, really amazing had passed . . . and that I had just missed it: the "Age of Steam."




And now that I have just signed-up for Social Security, I've found that I have over 1,500 black-&-white photos and color slides of Pennsylvania Railroad trains ~ and that most of them were taken during the eleven-year span between the end of the "Age of Steam" on the PRR and the creation of the Penn Central Railroad (viz., 1957-1968). Many of those photos and slides are published herein.




Over the years, I have collected a good deal of PRR-related ephemera ~ including a virtually-complete collection of "Pennsy" magazines. By means of eBay auctions, I've also purchased large numbers of PRR-related negatives and photos from the estates of Messrs. Roy Healey, Douglas C. Jones, and Henry C. Westenberger. It is my intent to upload various items and images that may be of interest to you.





Created: Monday, 04 July 2016

Revised: Tuesday, 25 July 2017

Revised: Friday, 09 March 2018

Revised: Monday, 06 August 2018



You may browse my collection of pictures via the menu located on the left hand side of the page. I hope you enjoy the collection and thanks for stopping by!